Insul-Tarp Technical Product Information
Insul-Tarp® Insulation Materials and Construction
Insul-Tarp in-slab insulation features a unique design and construction that includes the following top-quality materials:
● Cross-woven polyethylene for rugged durability
● High density closed-cell foam
● High density polyethylene bubble
● Two layers of reflective aluminum
Physical Properties of Insul-Tarp Ground Insulation
| | | |
| --- | --- | --- |
| Property | Test Method | Insul-Tarp |
| Average Thermal Resistance | ASTM C 518 | R - 7.5 |
| Tensile Strength and Elongation* | ASTM D 412 | 136 PSI |
| Tensile Strength** | ASTM D 751 | 45lbs-f/in. |
| Compression Set | ASTM D 3575 | 4.3 % |
| Bursting Strength* | ASTM D 751-73 | 90 PSI |
| Maximum Use Temperature | | 180°F |
| Minimum Use Temperature | | -60°F |
| Water Vapor Permeance | ASTM E 96 | .002 Perms |
* Denotes testing on bubble pack only
** Denotes testing on cross woven polyethylene only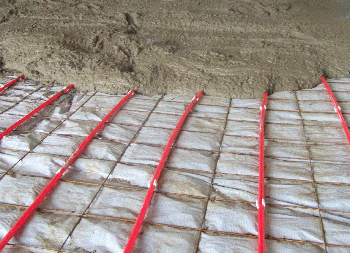 Tested R Value (R-7.5)
Insul-Tarp was tested in accordance with ASTM C 518, Standard Test Method for Steady-State Heat Flux Measurements and Thermal Transmission Properties by Means of the Heat Flow Meter Apparatus. See the Non-Radiant Testing PDF in the table below for a detailed summary of the testing procedure and results.
Performance Equivalent: R-10 (Under Radiant Heating Systems)
When calculating heat loads for radiant heating systems, a performance equivalent of R-10 can be used. Although this is not a tested R-value, field and laboratory tests support this number as a reasonable gauge for measuring performance. The Lab Test 1 and Lab Test 2 PDFs in the table below illustrate Insul-Tarp's radiant heating performance.
Insul-Tarp Specifications and Test Result Documentation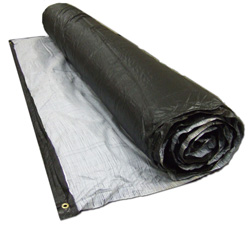 CUSTOMER COMMENTS
"The absolutely incredible thing about Insul-Tarp was the performance during heat up times of the slab. Projects done with 2-inch polystyrene seem to take up to 30 percent longer to get up to temperature.This product works better than any other product we have tried."
– Michael W., Hi Valley Supply
"When compared to the cost of styrofoam and the cost of installing and cutting styrofoam, it is much more cost efficient to use Insul-Tarp."
– Carlo S., United Plumbing
Insul-Tarp under slab insulation may be the easiest ground insulation to install and the most effective. For more information about Insul-Tarp or radiant floor heating, snow melting or roof de-icing solutions, call Warmzone today at 888.488.9276.